Hospitals & Medical Professionals
For Healthcare providers, staying cool on the job isn't simply a matter of comfort - it is a key driver of success.
Overheating is an all-too-common adversary for many Healthcare professionals. Surgeons, nurses, physicians, assistants, and even patients can all be affected by heat stress: a condition that saps energy, clouds judgment and affects patient outcomes.
In addition, we've learned that this problem is often exacerbated in many Healthcare settings by factors such as:
Lack of a reliable solution for keeping the patient environment cool
Alternatively, requiring entire rooms to be kept at uncomfortably low temperatures - especially for extended procedures
Featuring outdoor testing or other non-traditional staging areas
Glacier Tek's cooling vests are an ideal solution for overcoming these obstacles in a precise and reliable manner.
Staging and storing the vests is remarkably easy. In addition, our Flex Vests in Blue are specifically designed to imitate standard scrubs - with a similar color tone, and even a color-coded collar liner that makes identifying vest sizes quick & convenient.
We are also committed to filling orders for medical personnel as quickly as possible - ensuring delivery within days, not weeks.
Sample vests are available, as well as discounts. Please contact us to discuss which vest is right for your needs.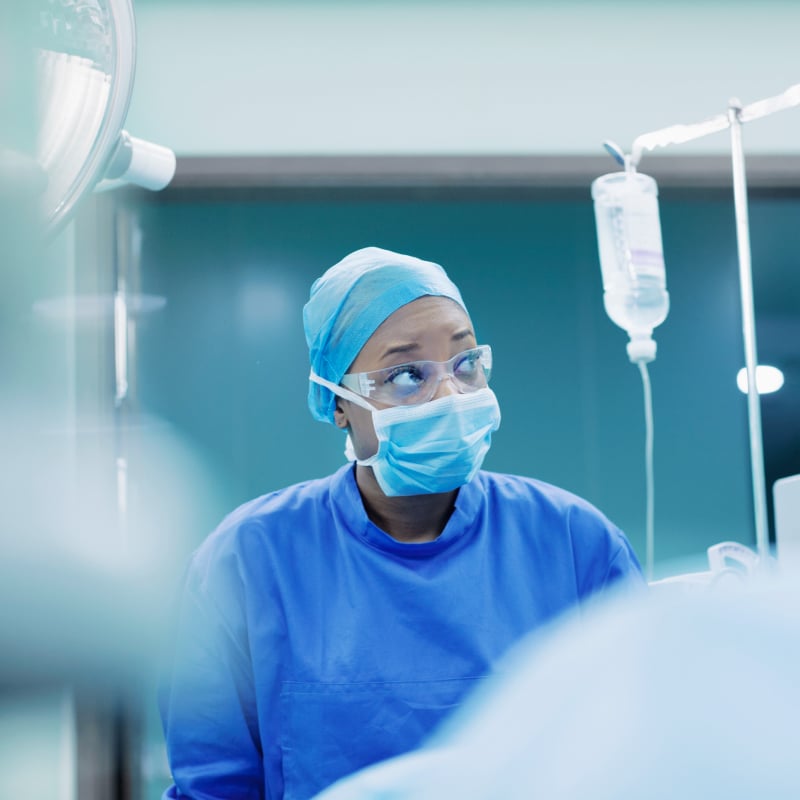 "We use Flex Vests in our COVID unit to cool down while we take PPE breaks and rehydrate in our break room.

When this is all over, the vests will go to Nebraska Med's famous biocontainment unit for our nursing staff to wear under the moon suits while they take care of patients with more infectious diseases like Ebola."
Efficient Staging & Cooling
Out of sight and out of mind - until you need it: our biobased phase change cooling packs can be recharged in just 20 minutes when submerged in ice cold water, easily staged in a sink or cooler, and then provide up to 2.5 hours of cooling relief.
Overcome Adverse Environments, Easily
Glacier Tek vests provide a solution that is versatile without being overly-complicated or uncomfortable. Prepare to be cool while working in a poorly air-conditioned room, an extreme outdoor environment, or anything inbetween.
Keep it Clean
Disposable Vest Sets utilize reusable cooling packs with a vest that can be discarded after each use. Flex Vests, as well as all of our reusable cooling packs, can be wiped down with the standard "Purple Top" sani-wipes used in Healthcare facilities.
Can Glacier Tek vests be worn under PPE and other outerwear?
Yes! Each of our vests adds about an inch of thickness to both the front and back of the body, and therefore can be worn under PPE and outerwear that isn't too tight on the body already. Our Flex Vest offers the snuggest fit for a form-fitting cooling vest, ideal for use under PPE.


Which vest is suggested for medical and surgical use?
While any Glacier Tek vest is viable for use by Healthcare professionals, many have preferred the Flex Vest set. The Flex vest style is fitted, featured in sizes S - 3XL, and provides the "leanest" fit of our available cooling vests.
The Disposable Vest Set offers a cleanliness-focused solution that allows vests to be disposed of while the cooling packs are reused. Disposable vests are capable of being used several times if necessary, remaining practical for use until they are soiled or damaged.
Sports vests have remained an ideal cooling solution for general work - and is most often requested by maintenance and support staff in Healthcare facilities. Our most popular vest style is perfect for supporting a variety of users with its adjustable fit, and is suitable for a wide range of work.


Which size vest is right for users?
The ideal vest is determined by your intended use and personal preference for style, type of material and color. Our adjustable adult vests will fit almost all adults, and extender sets are available (for adjustable vests only) that add 6 inches of width to the vest's original measurement.
Flex and Disposable vests will fit up to a 52-inch chest, but are not compatible with extenders
Original, Sport, and Banox vests will fit up to a 52-inch chest, and are compatible with extenders
Concealable and Classic vests will fit up to a 44-inch chest, and are compatible with extenders
Even if a vest does not cover the whole torso, the vest will cool the body effectively as long as the packs fall over the heart and lungs




Preferred methods for storing cooling packs and vests
Cooling pack sets are typically stored via one of two methods in Healthcare Facilities:
Stored directly within a refridgeration unit that keeps them prepped for immediate use
Stored within a dry storage space

For quick staging of packs from dry storage: prep a sink with water and ice, then submerge cooling packs for 20 minutes to charge
Cooling vests can be stored as you see fit. We typically see that Hospitals have preferred to station them near available scrubs in changing areas, or will feature the cooling vests in a separate storage area.


Efficient deployment/staging of cooling packs
A cooling vest equipped with a cooling pack set can provide up to 2.5 hours of cooling, and can provide continuous cooling when supported by an additional (charged) spare pack set that is implemented in a rotation - allowing the spare set to recharge during its downtime.
Therefore, the best practices for staging cooling packs are determined by the staff member's intended use:
For single-use cooling in any environment

Remove cooling vest and cooling packs from dry or cold storage

If necessary, (re)charge the cooling packs rapidly by placing them in an available container (sink, cooler) of ice and water

Apply cooling vest with cooling packs to user for up to 2.5 hours of cooling



For continuous cooling in an openly-accessible environment

Determine suitable area(s) for storing and (re)charging cooling packs

A refridgeration unit will recharge packs in 2-3 hours
A freezer unit will recharge packs in 1 hour
An available container (sink, cooler) with ice and cold water will recharge cooling packs within 20 minutes

Vest users should be able to access the recharging area, and rotate pack sets as necessary to remain cool

Place depleted cooling packs back into their designated recharging container



For continuous cooling in a closed/secure working environment (ex: surgery rooms, extended procedures)

Within the immediate area, prep an available container (sink, cooler) with ice and cold water
Submerge spare pack set in said container to charge them for use
Apply cooling vest with charged pack set to user in secure environment

When the initial pack set's charge is depleted, remove cooling packs from vest.
Exchange depleted packs for fully-charged packs located within the container
Place the depleted packs into the container to recharge them, repeat as necessary
Common procedures for cleaning cooling packs and vests
Cooling pack care is relatively straightforward - they can be washed effectively with dish soap and water, or wiped down with the "Purple Top" sani-wipes that are common throughout the Healthcare industry.
Cooling vest care can be managed in a variety of ways:
"Spot" cleaning can be done with an application of soap and warm water, or use of "Purple Top" sani-wipes.
Vests can be hand-washed with typical laundry soaps
Casual/Household-strength laundry machines can wash & dry cooling vests on the delicate setting
Industrial-strength laundering

Industrial-strength laundry processes have not shown significant wear upon standard vest designs like the Sport or Banox style
The Flex Vest does not reliably handle the intense heat of industrial-strength laundry machines

It is recommended that Flex vests be allowed to tumble/air dry if a reliable alternative is not available


Where can I purchase a vest locally?
Glacier Tek vests are not sold in stores.


How quickly are orders processed?
Most orders are processed and shipped within one or two business days. Please note that orders placed before 12pm (CST) may be processed for fulfillment that same day. You will be contacted by a Glacier Tek representative in the event of a shipping delay.


How do I change or cancel an order?
If you need to change or cancel your order after it has been sent, please call Customer Service as soon as possible at (800) 482-0533. Your order may begin processing immediately after you place it, and UPS/FedEx do not allow for significant changes to delivery information once a shipment is in progress.


What if an item I want is out of stock?
Despite our best planning, growing demand or reduced availability means that some items may become temporarily out of stock. We will contact you if an item you've purchased has been delayed, is on back-order, or is no longer available.
If we are temporarily out of stock on an item, you may back-order an item by prepaying (including shipping). When the product is in stock, we will automatically ship it to you. If you'd like to receive more information on when an item will return to stock, please contact us and a customer service representative will assist you.
Please note that Glacier Tek reserves the right to limit quantities for purchase based on merchandise availability.


Do Glacier Tek Cool Vests come with a warranty?
Glacier Tek warrants its products to be free from defects in materials and workmanship for 90 days from the date of purchase, provided the products supplied have not been subject to alteration, negligence, abuse or misuse. If you are not 100% satisfied with your Glacier Tek product, you can return it for a full refund within 90 days of purchase. For more details, see our return policy.


Can I order a replacement vest without the cooling packs?
Owners of a damaged or permanently soiled vest may wish to buy a replacement without incurring the cost of replacing the cooling packs. Glacier Tek products are listed publicly as vest sets, but we are happy to accommodate vest-only purchases. Please contact us for pricing.


Can the Cool Vest be returned?
If you are not 100% satisfied with your Glacier Tek product, you can return it for a full refund within 90 days of purchase - we'll take care of the return shipping cost for you as well. Returned products must be in the condition you received them, without signs of obvious wear and tear. Please see our return policy for more details.
Fulfillment Location:
Glacier Tek ships its products from Minneapolis, Minnesota.


Expedited Shipping:
Orders can be fulfilled at any available UPS or FedEx service levels.


Shipping via Customer's UPS/FedEx Account:
We are happy to fulfill any order via your own UPS/FedEx shipping account. Please provide an account # and your billing zip code.


Which countries can Cool Vests be shipped to?
We are happy to arrange shipment for orders outside the United States excluding these countries and regions: Balkans, Belarus, Burma, Central African Republic, China, Congo, Crimea, Cuba, India, Iran, Iraq, Ivory Coast, Lebanon, Liberia, Libya, North Korea, Pakistan, Russia, Somalia, South Sudan, Sudan, Syria, Taiwan, Ukraine, Venezuela, Yemen and Zimbabwe. Exception: We ship to all U.S. military locations anywhere in the world and give orders the highest priority.


Why were the GlacierPacks white and/or solid when I received my order?
GlacierPacks may solidify in transit if the temperature is below 59℉. This does no harm to them, they have simply received a partial or full charge already. There is no need to 'thaw out' the packs before charging them further.
Looking to purchase immediately, or in bulk?
Glacier Tek is committed to helping your hospital, clinic or medical facility by fulfilling orders as quickly as possible. If you're looking to buy in bulk, corporate discounts, volume pricing and sample vests are available. Please submit a RFQ so we can help you determine which vest is best for your team's needs.
Submit a RFQ
Questions?
Have additional questions about Glacier Tek and PureTemp cooling packs? Please see the most commonly asked questions on our FAQs page for more information on products, uses, fit, and ordering.
View FAQs