Cooling Vests for Police, Military Personnel and Emergency Responders
When it comes to working in the field, police, firefighters, EMTs and military personnel need to be cool and calm—both mentally and physically. When in hot environments or exerting oneself, it's important to have the right cooling vest to keep emergency responders and military personnel safe and focused. Glacier Tek's cooling vests for police, military, firefighters and other first responders keep the wearer cooler and provide up to 2.5 hours of relief without being bulky, heavy or restrictive.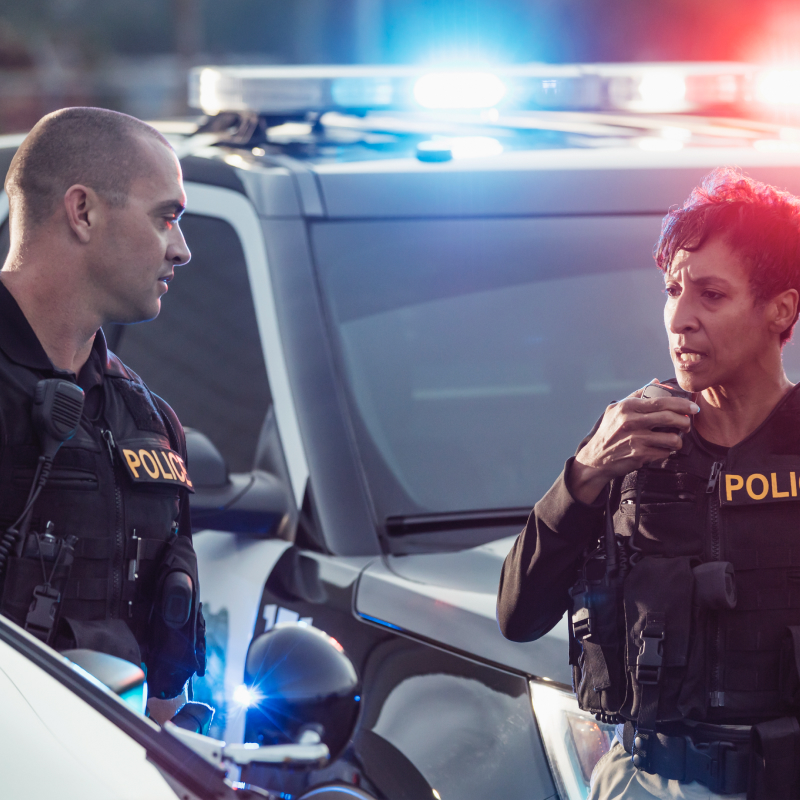 Supreme Cooling Tech
Need to keep cooler? GlacierPacks cool down from room temp in just 20 minutes when submerged in ice and water—even on the field or site—and will stay cool for up to 2.5 hours.
Breathable Material
Each vest is made of soft, high-quality material that stretches to comfortably fit the body, even when worn under a uniform or protective gear.
Handles Extreme Heats
When outside in an extreme environment, Glacier Tek's cooling vests work to keep you comfortably cool.
Keep cooler in even the harshest environments with Glacier Tek's cooling vests for military personnel, police offiers, firefighters and other first responders. Each vest comes with 12 cooling packs that tuck away easily, with spare packs are available for purchase to keep on-hand for continuous cooling comfort.
Nontoxic, biobased cooling packs by PureTemp maintain a comfortable 59℉ for up to 2.5 hours in 90℉ conditions
Vests weigh under 5 pounds with the packs, perfect for keeping you cool without weighing you down
Vests fit over or under most clothing and protective gear
Cooling packs can be reused indefinitely. Cooling vests for military, police and other first responders can recharge in 20 minutes when submerged in ice water, 1 hour in the freezer or a few hours in a refrigerator
Nylon vests can be laundered regularly
The biobased, phase-change cooling packs keep you dry and clean, not soggy and soaking wet like evaporative products
Self-contained, portable and unpowered—no cumbersome hoses, tubes or tethers, making Glacier Tek cooling gear ideal for the field
Which cooling vest is suggested for military, police and other first responders?
While any Glacier Tek cooling vests can be used by members of the military, police officers and other first responders, we suggest the Classic Cool (available in safety blue and safety orange for high-visibility) Concealable Cool Vest, Flex Vest and the Sport Cool vest. All of these vests are flexible and lightweight as well as machine-washable. However, if another vest fits you or your team best, all of our vests can be used by the construction field.
Which size vest is right for me?
The ideal vest is determined by your intended use and personal preference for style, type of material and color. Our adjustable adult vests will fit almost all adults and extenders are available; the Flex, Sport, Disposable and Banox vests will fit up to a 52-inch chest; the Concealable and Classic vests will fit up to a 44-inch chest. If a vest does not cover the whole torso, as long as the packs fall over the heart and lungs, the vest will cool the body effectively. For more information and to find your fit, check out our video.
Can Glacier Tek vests be worn under uniforms and other outerwear?
Each of our vests adds about an inch of thickness to both the front and back of the body, and therefore can be worn under uniforms, PPE and outerwear as long as there's room. The Flex Vest offers the snuggest fit for more form-fitting outerwear.
How do GlacierPacks work?
GlacierPacks can be charged in ice water, a freezer or refrigerator, and will maintain a constant 59℉ for up to 2.5 hours. While they may produce some condensation, it will mostly be absorbed by the vest itself. Because GlacierPacks are phase-change cooling packs, your vest will not require air passing over it to maintain temperature. GlacierPacks can be worn under protective gear and other clothing without issue.
How durable are GlacierPacks?
While our GlacierPacks can withstand bodyweight pressure, such as laying on them, you should use caution around any sharp objects. We do offer an accessory called the Glacier Tek Nail Stop set you can purchase to further protect the packs from being punctured by sharp edges, tools, etc.
Where can I purchase a vest locally?
Our vests are not sold in stores.
How quickly are orders processed?
Most orders are processed and shipped within one or two business days. You will be notified by email or telephone if any issues arise.
How do I change or cancel an order?
If you need to make any changes or cancel your order after it has been sent, please call Customer Service at (800) 482-0533. Please note that your order may begin processing immediately after you place it, and it may not be possible to change items on existing orders.
What if an item I want is out of stock?
We try our best to fill all orders within 48 hours. Sometimes, despite our best planning, we underestimate demand and certain items are temporarily out of stock. We will let you know if an item is on back-order and will be delayed or if it is no longer available. We reserve the right to limit quantities based on merchandise availability.
If we are temporarily out of stock, you can back-order an item by prepaying (including shipping). When the product is in stock, we will automatically ship it to you.
Do Glacier Tek Cool Vests come with a warranty?
Glacier Tek warrants its products to be free from defects in materials and workmanship for 90 days from the date of purchase, provided the products supplied have not been subject to accident, alteration, negligence, abuse or misuse. If you are not 100% satisfied with your Glacier Tek product, you can return it for a full refund within 90 days of purchase. For details, see our return policy.
Can I order a replacement vest without the cooling packs?
Owners of a damaged or permanently soiled vest may wish to buy a replacement without incurring the cost of replacing the cooling packs. We are happy to accommodate. Please contact us for pricing.
Can the Cool Vest be returned?
If you are not 100% satisfied with your Glacier Tek product, you can return it for a full refund within 90 days of purchase. Returned products must be in the condition you received them, without signs of obvious wear and tear. We'll pay for return shipping. Please see our return policy for details.
Which countries can Cool Vests be shipped to?
We are happy to arrange shipment for orders outside the United States excluding these countries and regions: Balkans, Belarus, Burma, Central African Republic, China, Congo, Crimea, Cuba, India, Iran, Iraq, Ivory Coast, Lebanon, Liberia, Libya, North Korea, Pakistan, Russia, Somalia, South Sudan, Sudan, Syria, Taiwan, Ukraine, Venezuela, Yemen and Zimbabwe. Exception: We ship to all U.S. military locations anywhere in the world and give these orders the highest priority.
Why were the GlacierPacks white and solid when I received my order?
GlacierPacks may solidify in transit if the temperature is below 59℉. This does no harm to them, and the standard instructions can still be used to charge them for use.
Looking to Purchase in Bulk?
Glacier Tek is committed to helping your team by fulfilling orders as quickly as possible. If you're looking to buy in bulk, corporate discounts, volume pricing and sample vests are available. Please submit an RFQ so we can help you determine which vest is best for your team's needs.
Submit an RFQ
Questions?
Have additional questions about Glacier Tek and PureTemp cooling packs? Please see the most commonly asked questions on our FAQs page for more information on products, uses, fit, and ordering.
View FAQs