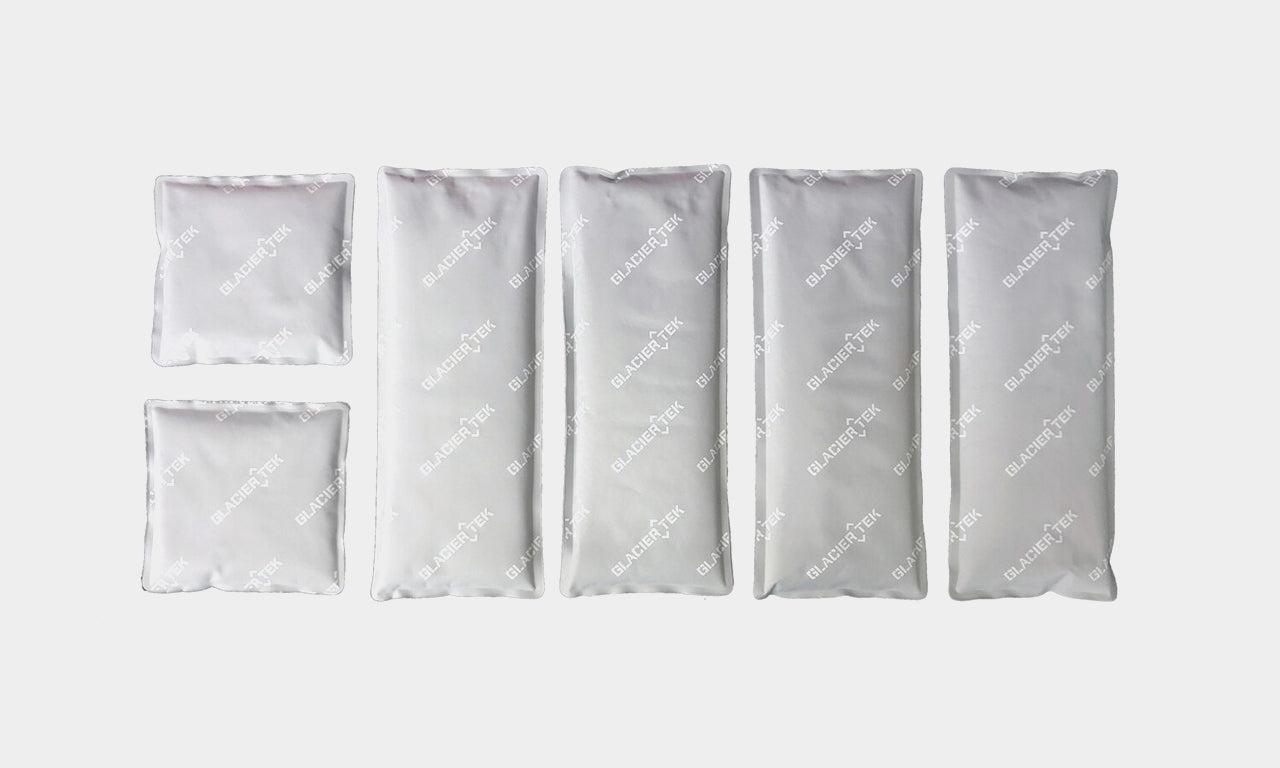 Science-Based Therapy & Recovery
Recovery from physical activity and heat stress is critical, and the Therapy pack set excels in accelerating these processes. Studies supporting these applications are ongoing thanks to research by organizations such as NISMAT, who provided a case study that focuses specifically on improved recovery times for pitchers who received Therapy pack treatment to their throwing arm.

Patented Design with Flexible Comfort
Therapy packs are filled with our DOTVESL - a patented application that replaces inflexible gel with a series of "dots" to create an effect very similar to a beanbag chairs or pillows. The packs will remain pliable even when charged, resulting in a uniquely comfortable and flexible cooling pack.

Perfect for Use with Compression Clothing
Therapy packs can be applied with a soft cloth wrap, however they truly shine when paired with compression shorts, sleeves, socks, or other applications. The Therapy pack can be safely applied directly to the skin, so compression clothing will secure the packs as well as maximize their effectiveness
The following items are included in a Therapy Pack Set:
Qty 4 12.75" x 5.25" x 0.5" rectangular packs
Qty 2 6" x 5.25" x 0.5" 'square' packs
Soft cloth wrap for applying/securing cooling packs
Mesh bag for securing and transporting cooling packs


Product Materials:
The Therapy Pack is made with 100% nylon fabric that is extremely flexible and can absorb condensation
Cooling packs contain a non-hazardous and bio-degradable PCM, the Safety Data Sheet can be found here


Product Measurements:
Therapy Pack Sets include both 'rectangular' and 'square' packs

'Rectangular' packs measure 12.75" x 5.25" x 0.5"
'Square' packs measure 6" x 5.25" x 0.5"


Product Weights:
20 oz per 'Rectangular' cooling pack
8 oz per 'Square' cooling pack
6 lbs total product weight
How do Therapy Cooling Packs charge?:
Therapy GlacierPacks are unique, in that charging them via different methods will provide different results.
For a more pliable, comfortable GlacierPad

Charge for 30 minutes when submerged into ice-water in a sink, cooler, etc
Charge 1-2 hours when placed in a refridgerator

Full charge within 1 hour when placed in a freezer

How to use Adult Cooling Packs (in a Cooling Vest):
First, slide one of the standard four-cell packs into each pocket of the vest. Then slide one of the three-cell cooling packs in each pocket, on the outer side of the four-cell pack. You want the four-cell packs to be closer to your body.
Glacier Tek's newly-patented Therapy GlacierPacks provide targeted cooling relief for bruises, muscle strains, headaches and more. Powered by PureTemp's flexible phase change cooling technology, the packs remain pliable when fully charged and can be reused indefinitely.
The 64ºF coolant means the patent-pending packs can be used safely and effectively for longer periods than traditional ice packs or cold water immersion (CWI) treatments. In research conducted by the Nicholas Institute of Sports Medicine and Athletic Trauma, the packs have been shown to reduce strength loss after damaging exercise or strain.